Digital Marketing For Clinics & Doctors
Are you looking for Digital Marketing for clinics? Do you want to boost your health clinic? Do you want to enhance your health clinic within reach of every people? Do you want to build your clinic website to get more patients? Do you want to make your health clinic website to the top of Google ranking?
Google found that 44% of the visitors choose to make their appointment online or by calling after taking number from websites before visiting the premises.
This, it shows us a particular trend of the prospects who do online research before choosing a hospital, clinic, or a doctor. Using digital marketing for your healthcare service gives a wider audience reach and creates a good branding of the healthcare services you provide.
Digital Marketing for doctors or clinics? Sounds odd after listening it. But, with the tremendous growth of internet users, Digital Marketing is necessary for each and every sector nowadays. There are various online marketing strategies which are available for doctors and clinics that is well planned with deep research. As, the health care industry is now coming with newer technology everyday. It has become a vital to let people know about it. Internet marketing for doctors and clinics really does a lot of importance for them. As per health survey, about 4.3% of physicians and doctors are making use of digital marketing strategies to promote themselves. There are abundant doctors out there but the patients don't even know about them. Therefore, to make yourself identifiable, your online presence is very necessary.
These days, more and more medical practices have initiated to place emphasis on Digital Marketing. This is mainly because marketing online can help you to reach your target audience much faster and with better results. This is absolutely true when it comes to Digital Marketing for doctors. In the modern age of technology and increased digitization, Digital Marketing Courses practices have made an innovative turn. To keep up with these constant changes, businesses have had to alter their strategic approach to enhance their consumer base and rise above the competition. These days, medical professionals are no longer different in depending on cutting edge online marketing techniques to develop their practices. If you are a doctor and you are interested in using digital marketing to grow your practice but you have no idea where to start, you are alone. With the use of Digital Marketing, you can view and schedule appointments, monitor patients health, access telemedicine services, collect payments for services, answer health questions, send patient notifications, receive alerts and reminders, manage billing and prescriptions, access consultants notes etc.
Digital Marketing for doctors and clinics is really important to consider the importance of online marketing for doctors and clinics as more and more number of people are looking for information about doctors, medical conditions and clinics online. As, people are looking for doctors and clinics according to their specialization, area and ratings, Digital Marketing focus on creating a positive and informative online profile for doctors and clinics so that more and more patients will move towards clinic.
Are you a doctor or do you run a clinic? Are you new in the health market or an old in existing market? Do you want to increase your customers to sell your health products? If you are a doctor and you have your own clinic or new in a health market and you want to expand your clinic business online, we have some ways to improve the visibility of your clinic. With the help of these Digital Marketing strategies, you can enlarge your clinic practices:
Let's have a walkthrough on 10 winning digital marketing strategies for doctors and physicians
1. Easy-to-navigate website
If you are planning have an online presence then it is the basic thing to have a website. Digital marketing without a website is like a pizza without cheese. So yes, build a website and make so easy to navigate that whatever the patient is looking for will be able to find it quickly. Be it booking an appointment or reading a blog or knowing about various medical conditions. Keep it handy.
If you look at Dr. Batra's website, then everything is visible right on the front page. He has also included live chat option on the website.
Provide the exact address of the clinic so that the patient will be able to find it easily.
2. Power of Facebook
Social media is the key to promote any brand or face. If a doctor jumps into the pool of social media and creates a good impression on the audience then there are high chances of getting recommendations. Facebook makes it easy for the doctors to share information with the patients. All the clinic updates can be shared on Facebook.
According to Infographics Archive, around 60 percent of social media users are most likely to trust social media posts and activity by doctors over any other group. So being a doctor you have already fought the half battle of digital marketing.
Below is the screenshot of a Pune-based famous heart surgeon, Dr. Rahul Patil. He has maintained his Facebook page in a very decent manner. The page has all the updates.
3. Produce your own videos
Doctors are always busy due to their work schedules. But in order to have a good reputation and a face value in the market, they have to use such tactics. Create videos that are engaging and informative. Audience these days are turning towards visual content, so give them that. If for instance, an orthopedic surgeon talks about bone health and share his or her expertise with the audience, the audience will find it interesting.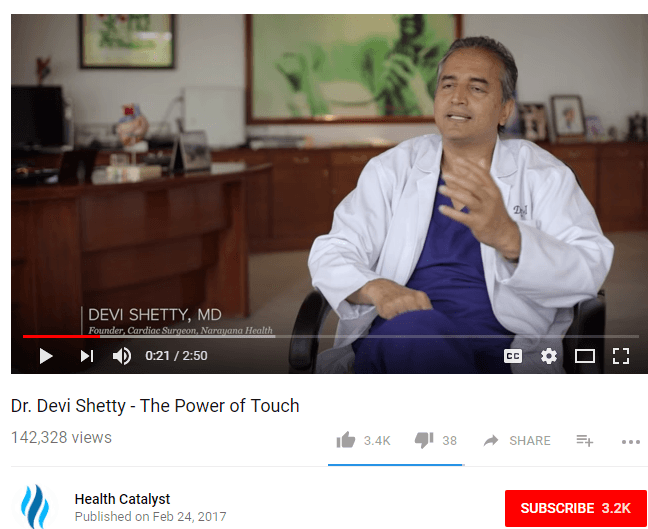 4. Encourage patient reviews
Patient feedback counts a lot. It helps in building trust among the patients. It is a usual practice of everyone to ask about a particular doctor before visiting them. They are doing what? They are taking reviews from the customers. So if as a doctor you are able to produce the reviews from your patients and put it on the website, then the prospective patients will be able to read and decide what to do.
Also, video recording of the reviews can create a powerful impact on the audience. If your patients are ready to face the camera and share their experience then you just have to shoot the video and put it on your website or YouTube or any social media channel.
6. Pay-Per-Click Ads
Being a doctor and your field is concerned, you can trust heavily on Google's pay-per-click advertisements. It enables you to display ads only to those who are using the keywords that you have targetted. This allows you to avoid the general public and target the apt people.
Make sure to use the terminologies and search terms that your patients will use while searching.
6.Instagram
When you've finished giving your patients a photo-ready smile, where do you think they show it off first? Instagram is the ultimate way to demonstrate the confidence-boosting visual side of your practice, particularly if you focus on cosmetic dentistry. Remember, don't overuse filters here. The aim should be to appear as professional and authentic as possible
7. Write blogs regularly
This acts as a bridge between you and your patients. Writing blogs on a regular basis can help in increasing volume of the patients. Create content that users want to read and they will share. Writing blogs is not about writing anything, write something related recent update in your expertise area.
You can also share various experiences of the patients that you have come across. If you are writing about some serious disease then make sure that you make it such that the patients won't be scared or worried after reading it. Say if you are writing about cancer then make sure you mention about keeping strong willpower to fight with it.
8. Local SEO and personal branding
It is necessary to have a strong local SEO as the people from your city will be searching for your clinic. So make sure that you have a Google My Business Page which has all the information right from address, contact number etc along with the reviews.
Also if you are working in a hospital then never forget to do the personal branding as people look for the doctor and not the hospital. That is secondary to them. Once people know about you then you will automatically start getting more patients.
In today's time, digital marketing for doctors has become a must. Doctor's are always short of time, so hire a good digital marketing agency. These agencies are good at creating online marketing strategies for doctors. Doctors are as equal to God for the patients, so make sure you keep up the promise and work hard!